Ladies of the TTC 46 don't give TTC Langweid a chance
Clear opening success in the new season
It became clear after all. With 6:1 the ladies of the TTC 46 celebrated in the second Bundesliga at the league newcomer TTC Langweid an unchallenged victory, where it started a bit bumpy.
The newly formed double pairings did not yet harmonize as well as desired. Luisa Säger and Mallika Bhandarkar gave their opponents Vitalija Venckute and Cennet Durgun the second set, but won 3:1.
For the two Belarusians in the team, newcomer Daria Trigolos and Hanna Patseyeva, there were no linguistic problems, but playfully there was not much to match. With a straight 0:3 they had to leave Natalie Paredes and Thi Hong Loan Le to play and the hosts to equalize.
After that, however, the guest team's playing class clearly prevailed. Luisa Säger had to leave the first set to Ecuadorian Natalie Paredes, but then she was superior. Next door, Daria Trigolos did not leave any doubt in her first TTC 46 appearance against Thi Hong Loan Le and clearly won.
The games in the rear pair cross were equally clear for the Weinheim team. The Lithuanian Vitalija Venckute had to acknowledge the superiority of Hanna Patseyeva as well as Cennet Durgun had to acknowledge that of Mallika Bhandarkar.
In the encounter between the top players, 18-year-old Natalie Paredes and 20-year-old Daria Trigolos, the Belarusian in the jersey of the TTC 46 also won in three sets.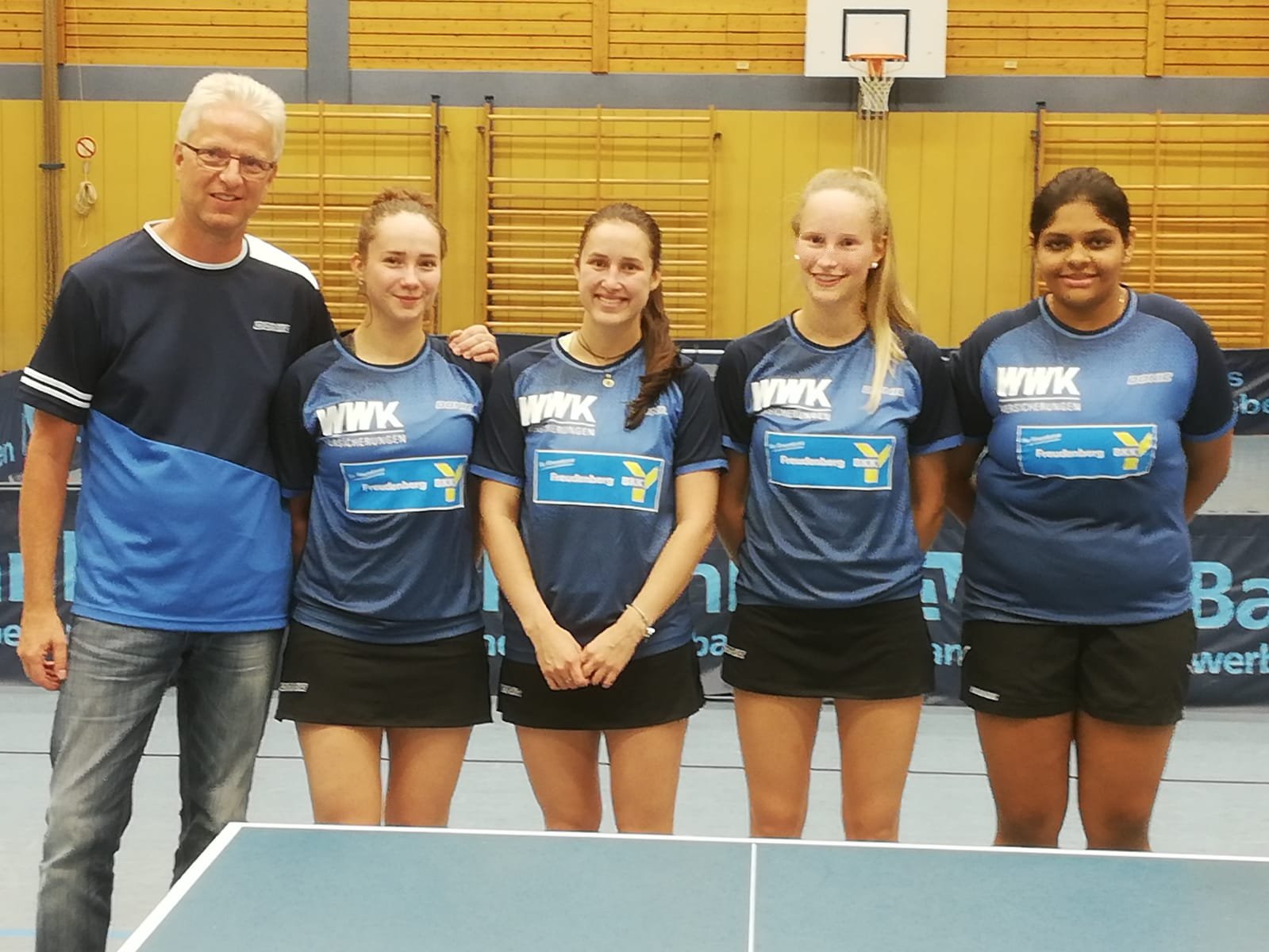 Christian Säger with Daria Trigolos, Hanna Patseyeva, Luisa Säger und Mallika Bhandarkar
The 6:1 gives a clear finger point: the team from near Augsburg will probably have to go into the fight against the relegation, the ladies of the TTC 46 Weinheim should be able to keep up in the front of the table.
Christian Säger, the board member, is sure that new member Daria Trigolos will be a good match for the team and will give the club a lot of joy.
Next weekend, the team will introduce itself in its own hall in the match against the Leutzscher Füchse, in a slightly changed line-up, if Jennie Wolf participates again and Mallika Bhandarkar starts a time-out due to her studies. At the same time the men receive the SB Versbach, after they will celebrate the season opener in Kaiserslautern on Saturday
Home game on Sunday, 29.9.2019, 14:00 h at Heisenberg-Gymnasium
Translated with www.DeepL.com/Translator