Men's team of the TTC 46 Weinheim this time with successes
First victory for regional league ladies
The second women's team of the TTC 46 Weinheim won after the first draw a clear 8-1 victory against DJK Offenburg II and are now in the top group of the Regionalliga Südwest firmly.
The strong team with Iryna Motsyk, Julia Weimer, Conny Klump and Anke Haas left no doubt about the victory of the hosts. Already the doubles went to Weinheim, and in the top singles Julia Weimer finished the Bundesliga-experienced Petra Heuberger smoothly in three sets, against which later Iryna Motsyk had to allow the only point of the South Baden women after 0:2 and catching up in the final set. The other Weinheimers remained without defeat.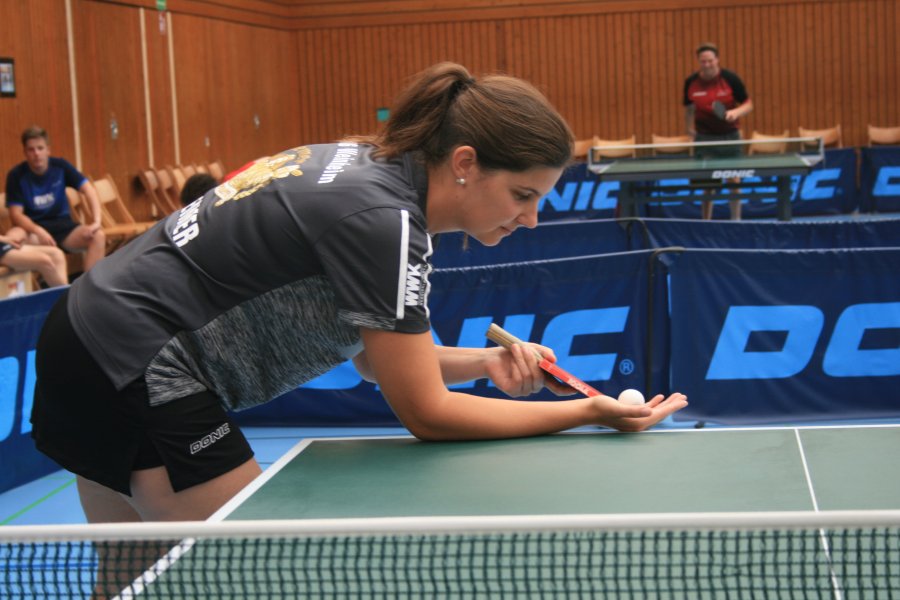 Julia Weimer convincing without much training
The men's teams were also successful this time.
The second team had a hard-fought 9:7 victory in the Verbandsliga against the old rival TTG Oftersheim. The new number 1 Robin Campbell proves to be the hoped for reinforcement, he won with Lars Frey one point in the entry double, two individual victories against the ex-TTC team Holger Weidenauer and Stefan Berlinghof and finally the victory point in the final double. Maurice Engel, Janis Oberle, Konrad Ell and two times Daniel Berbner also achieved further victories.
The away success of the men V in the Kreisliga was also close at LSV Ladenburg III. With 9:6 one could credit oneself with the first double point win. The victories for Weinheim were due to Bäurle/Sommer and Schimkat/Beisiegel in the doubles as well as Sadegh Khalili Tehrani, Ramon Bäurle, Mathias Beisiegel and Armin Schimkat to an intermediate score of 6:1. Sadegh, Mathias and finally Pablo Sommer scored the necessary points for the overall victory.
The first victory was also claimed by the seventh in district class C with the 6:4 against TSV Amicitia Viernheim VII. Both doubles as well as Dieter Bürner (2), Jürgen Hildenbeutel and Helmuth Hock provided the necessary points.
In the youth league U18 the first team had to leave the points to the ASV Grünwettersbach at 4:8. After the two doubles Bäurle/Sommer and Ermler/Burkhardt won, only Celin Ermler and Daniel Burkhardt had individual wins for Weinheim.
Also the second had to give up the points. DJK Dossenheim had no points in the association class at 5:8. For Weinheim the doubles Sammet/Hammer and Grimley/Detig scored, but afterwards Lars Sammet, Isaac Grimley and Julian Hammer were only successful once.
At the youth U15 there were only two wins in the cup by the third with 4:0 against TV Großsachsen III (Noah Leonhardt, Benjamin Claus and Jule Hildenbeutel) and the second with 4:1 at SG TSV Viernheim/DJK Vogelstang (John SChwacke, Tobias Ott and Nelson Svojanovsky).
In the league games they lost: TTC II – DJK Wallstadt 3:8, TSG Lützelsachsen – TTC IV 8:2.
Translated with www.DeepL.com/Translator