TTC ladies leave NSU Neckarsulm no chance at 6:0
Ready for the top game
In the nominally best line-up, the ladies of the TTC 46 Weinheim were able to travel to Neckarsulm and confirmed there that they want to be at the top of the table. With 6:0 for the Bergsträßer ended the unequal game. With this victory, the team in this formation was already able to play its way into the top match against the TuS Uentrop rivals, who also won three times.
For the first time with the young American Rachel Sung at position 3 the team was clearly superior, even if some matches were quite close.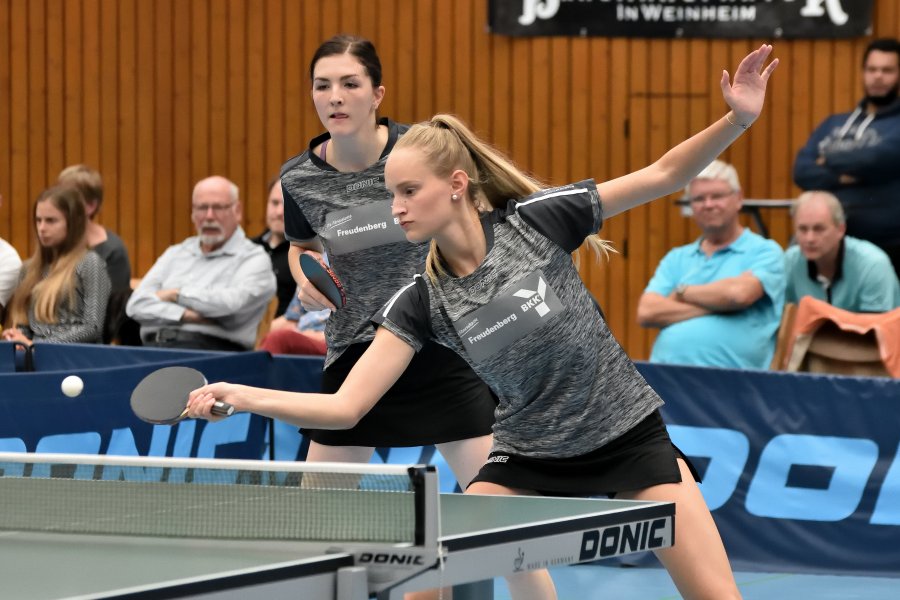 In the doubles the well-rehearsed team with Luisa Säger and Jennie Wolf had the opponents Harabaszova/Hessenthaler safely under control, while the newly formed pairing Daria Trigolos/Rachel Sung had at least in the second set at 1:11 a sag.
Luisa Säger had to defend against Lenka Harabaszova, when she missed a match ball in the fourth set, through highs and lows in the final set and won narrowly.
The 3-0 victory of Daria Trigolos over Wenna Tu was clear.
Jennie Wolf also had to fight hard against Rebecca Mohr and had to win 1:2 and the set.
Rachel Sung turned loose into the home straight after a narrow loss in the first run and thus already produced the final result.
Also in Neckarsulm there is a parallel match day of the ladies and gentlemen like next week in Weinheim. Their men will be guests in the Heisenberghalle on Oct 13th when the ladies ask for the top match against TuS Uentrop. And in the men's singles, too, the table leader will be there: the guests will rank in the sun on the pitch.
Next matches on 13.10., 14:00 h: Women – TuS Uentrop, Men – NSU Neckarsulm
Translated with www.DeepL.com/Translator