Men of the TTC 46 Weinheim get the points in Wöschbach
Still in the top group
With a hard-fought 6:3 victory, the men of the TTC 46 Weinheim are first in the top group of the third table tennis Bundesliga South established. Behind the outstanding Neckarsulmers it goes however very closely: further five teams have at least a balanced point account, and the Weinheimer Quartett stands with 6:4 quite well there.
This time the team of coach Rainer Schmidt had to go to the Pfinztal to the TTC Wöschbach, which was strengthened by some players of the local rival ASV Grünwettersbach.
With Jan Zibrat, Javier Benito and Siddharta Christian Dias Almeida, some old acquaintances met the TTC players again in the Wöschbach jersey.
For Schmidt's team there was a perfect start – both doubles were won and thus the foundation for the later success was laid. Filip Cipin and Tom Eise had to give up the first set, but then took over the scepter against Zibrat/Benito and won 3:1.
Laurens Devos and Björn Baum had a hard time against Dias Almeida/Hrnic and fought their way free 11:3 in the final set.
The 2:0 was immediately followed by the equalizer of the hosts, when Jan Zibrat with 3:1 against Filip Cipin quite clearly retained the upper hand and Javier Benito against Laurens Devos narrowly in the individual sets, but finally won with 3:0 clearly. Laurens had taken part in the Polish Open this week and had made it under the last 32. And so the efforts of the last weeks and the short night to the match day were clearly noticeable to him.
The rear pair cross of the Weinheimers then set the course for victory again: After a 2-0 set lead, Björn Baum had to allow the equalizer against Dias Almeida, but still closed the bag. Tom Eise dominated the sets 1, 3 and 4 against Kenan Hrnic and set the score at 4:2.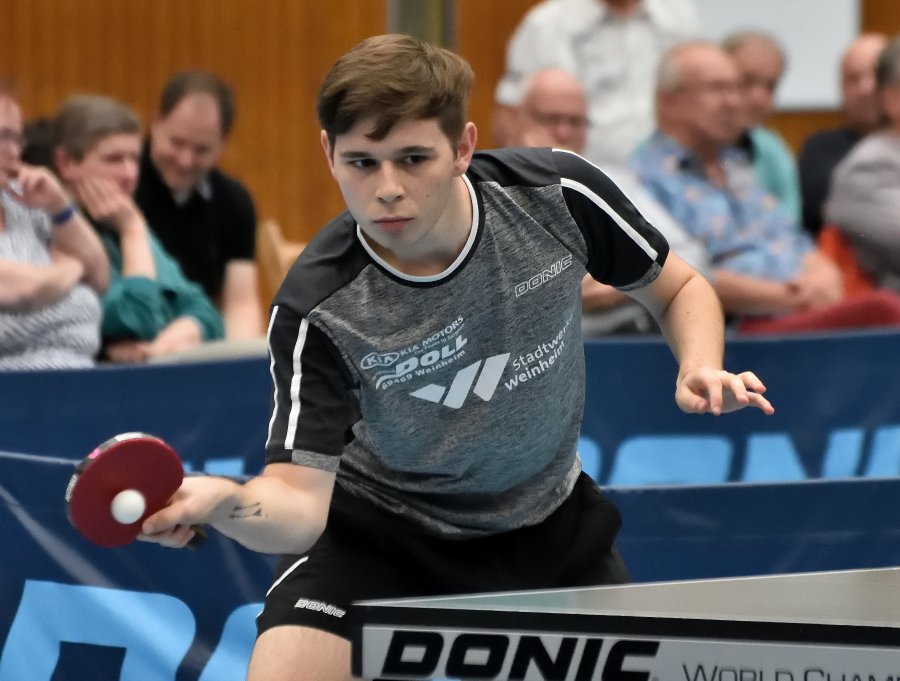 Tom Eise as match winner with 3 points
Laurens Devos also had to cancel the sails against Jan Zibrat with 0:3, but Filip Cipin managed to win his match against Benito after 2:0 and 2:2, a result that Tom Eise also used against Dias Almeida with 3:2 to win the match. This time it was mainly the cross at the back of the pair that pulled the chestnuts out of the fire.
On 9.11. the score against the last player of the table ASV Grünwettersbach II should be improved a little bit, before on 17.11. in the home game with the second TTC Wohlbach a very difficult chunk is in the way again.
Translated with www.DeepL.com/Translator