Home wins for the TTC 46 Weinheim: Women – ESV Weil 6:4, Men – SV SR Hohenstein 6:1
Women fend off attack by Weil
The dramaturgy of the women's competition in the second German Table Tennis League couldn't have been better: on the last matchday, the two top teams who had won all their matches so far met each other. The team of the TTC 46 Weinheim was at the top with 14:0, the ESV Weil followed with an outstanding game with 12:0. The Bergsträsserinnen could keep this "to zero" thanks to a hard-fought 6:4 success and thus go as autumn champions into the Christmas break.
For the doubles, board member Christian Säger and coach Shen Zhujun had considered a tactical trick, which was then enough to a 2-0 lead.
Although Mallika Bhandarkar was also available again after her exams, they put Iryna Motsyk alongside Daria Trigolos, and the two won against Vivien Scholz/Elina Loyen a 3:2. The pairing Luisa Säger/Jennie Wolf, which had been harmonizing for years, surprisingly clearly came to a 3-0 victory against Ievgeniia Vasylieva/Polina Trifonova.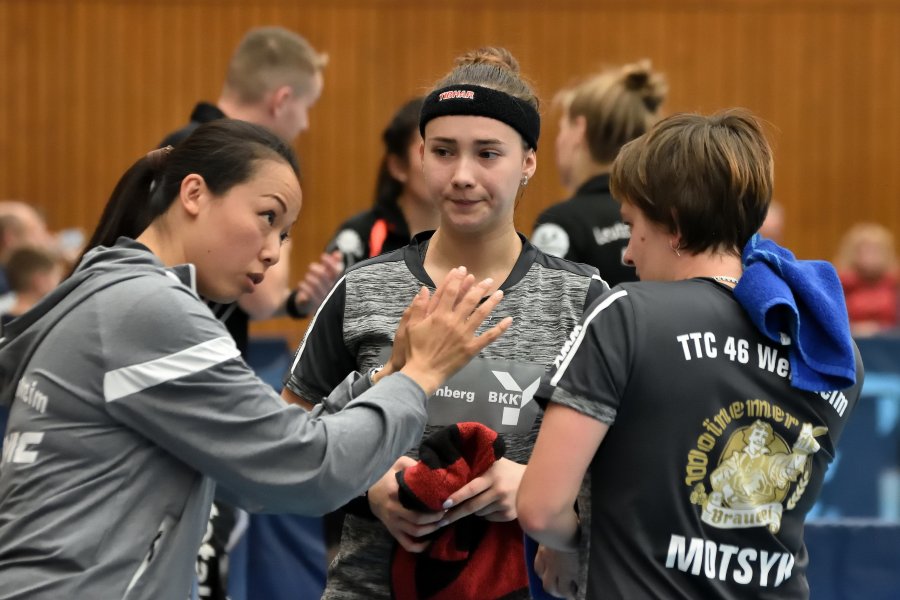 They proved in their singles that these two represent the absolute top of the league. Daria Trigolos took sets 1 and 3 against Polina Trifonova, but had to pay tribute to her opponent's placed shots and lost narrowly. Although the individual sets were tight, Luisa Säger did not have much to order against Ievgeniia Vasylieva.
The Weinheimers had calculated slight advantages in the rear pair cross, even though Weils Vivien Scholz had arrived with a balance of 7:0. But Mallika Bhandarkar's unconventional style did not suit her, and she suffered her first defeat here. Jennie Wolf had few problems with Eline Loyen and won the match to 4-2.
The hopes of getting something in the front pair cross did not come true. Vasylieva always had a better answer against Daria Trigolos, and Luisa Säger made too many mistakes against Polina Trifonova at the end of each set, so that the South Baden team could equal the score 4-4.
Jennie Wolf also kept her nerve against Vivien Scholz and brought home the fifth point with 3:1. Eline Loyen did not have a chance to win against Mallika Bhandarkar either, so that a Weinheim victory was on the scoreboard after all.
Now it continues for the ladies only in the next year on 12 January with the home game Sunday against NSU Neckarsulm.
Next door was the team from SV Sachsenring Hohenstein-Ernstthal, who had taken two points from TSG Kaiserslautern on Saturday and thus passed TTC 46 in the table. However, the Weinheimers were able to adjust these conditions impressively. With 6:1 they achieved a clear success, which now brings them to 9:7 before their last appearance in the preliminary round on 15.12. at Bayern Munich, which will also be the first opponent in the new year
Laurens Devos and Björn Baum had to lose one point right at the beginning when they lost against Miroslav Horeijsi and Andrey Milovanov with 1:3. Filip Cipin and Tom Eise beat Nick Neumann-Manz and Karl Zimmermann 3-0. Then there were five singles successes, which were not to be expected with the strength of Miroslav Horeijsi in particular.
Laurens Devos presented himself in splendid form and left Andrey Milovanov no chance and was later also successful against Horeijsi with 3:1.
Filip Cipin is in top form again after his flu and also ranked Horeijsi down.
Tom Eise was successful against the youth national player Karl Zimmermann after 3 rounds, while Björn Baum had to struggle once again. The first two sets went to Nick Neumann-Manz, but then his fighter's heart awoke in Björn and he tore the wheel around to his victory.
Coach Rainer Schmidt was highly satisfied this time and was astonished about Laurens Devos' performance this season, which he had not expected, and after the last partly meager performances of his players he was full of praise this time.
2nd Bundesliga Women: TTC 46 Weinheim – ESV Weil 6:4
3rd Bundesliga South Men: TTC 46 Weinheim – SV SR Hohenstein-Ernstthal 6:1
Translated with www.DeepL.com/Translator (free version)