Men of TTC 46 Weinheim with clear victories in Wohlbach and Hohenstein
Twice 6:1 secures 3rd place
The men of TTC 46 Weinheim recorded a successful away tour on the weekend with two brilliant appearances in the third table tennis Bundesliga South. First they played a superior 6:1 at TTC Wohlbach, second in the table, and on Sunday they confirmed their excellent form at SV Sachsenring Hohenstein-Ernstthal with the same result.
Against the Franconians of TTC Wohlbach, they only managed a 5:5 in Weinheim, because Filip Cipin had to be replaced due to illness.
Now with the best line-up, the four didn't give the hosts a chance, even though this experienced team also competed in standard formation and had thus already collected quite a few points.
In the doubles the points were still shared. Filip Cipin and Tom Eise made short work of Grozdanov/Christ, while Laurens Devos/Björn Baum and Benes/Vyborny had a long five-set match and even had two match points in the fifth set for the Weinheimers, but the two hosts still had the better end to themselves.
Filip Cipin showed an extremely strong performance against Michal Benes and did not let him unfold at 3-0. The remaining matches were played in the deciding set at TTC 46. Laurens Devos took the next two after losing the first set against Richard Vyborny, missed the fourth match point but then had the game under control with 11:3.
Björn Baum had a difficult start into the match against Grozdan Grozdanov and gave away two sets at first, but was then superior. And Tom Eise had to give Yevgenij Christ the second and third set, and then turned into the winning lane.
Laurens Devos finished the game with a 3-1 win over Michal Benes.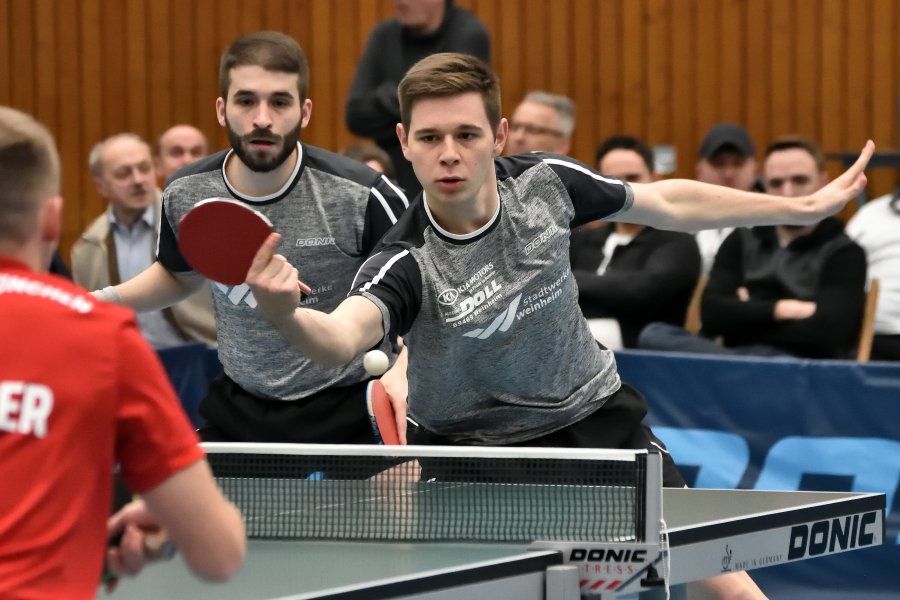 The journey continued to Saxony to SV SR Hohenstein-Ernstthal, where they were able to repeat the 6-1 win from the first leg in Weinheim.
Already in the doubles, they took a 2-0 lead this time, when Devos/Baum won 3-1 against Neumann-Manz/Koschmieder and also Cipin/Eise won 3-2 against Horejsi/Milovanov.
It quickly went to 4-0 with victories of Filip Cipin against Miroslav Horejsi (3-1) and of Laurens Devos against Andrey Milovanov (3-0).
For Björn Baum things didn't go as planned this time, despite the fight he lost 3-0 to Nick Neumann-Manz.
Tom Eise slept through the first set, but then left nothing to chance against Johann Koschmieder.
Again Laurens Devos scored the sixth point when he won the decisive set against Miroslav Horejsi with 15:13.
With these four points, the quartet from TTC 46 Weinheim were able to improve their balance to 17:9 and occupy a good third place, far behind NSU Neckarsulm (26:0) and also still behind TTC Wohlbach (17:7), while Hohenstein takes fifth place with 11:11.
The next and already last away task on 8 February in Versbach should also be solvable, so that the last four home games can be approached calmly.
Translated with www.DeepL.com/Translator (free version)