Women of TTC 46 Weinheim win in Tostedt and Uentrop
Two pursuers shaken off
With two more quite clear victories the ladies of TTC 46 Weinheim could keep their position at the top of the second Bundesliga and distanced the pursuers three and four.
On their Nordland Tour they first defeated MTV Tostedt 6:3 and on Sunday the promotion aspirant TuS Uentrop 6:2 and showed a strong team spirit.
Decisive were the two won doubles matches at the beginning, which could still be turned around after a hard fight. Daria Trigolos and Iryna Motsyk as well as Luisa Säger and Jennie Wolf brought their team to the front with 3:2 victories each. In Uentrop against Avameri/Scheld, Säger/Wolf made their fans almost desperate with 10 match points missed.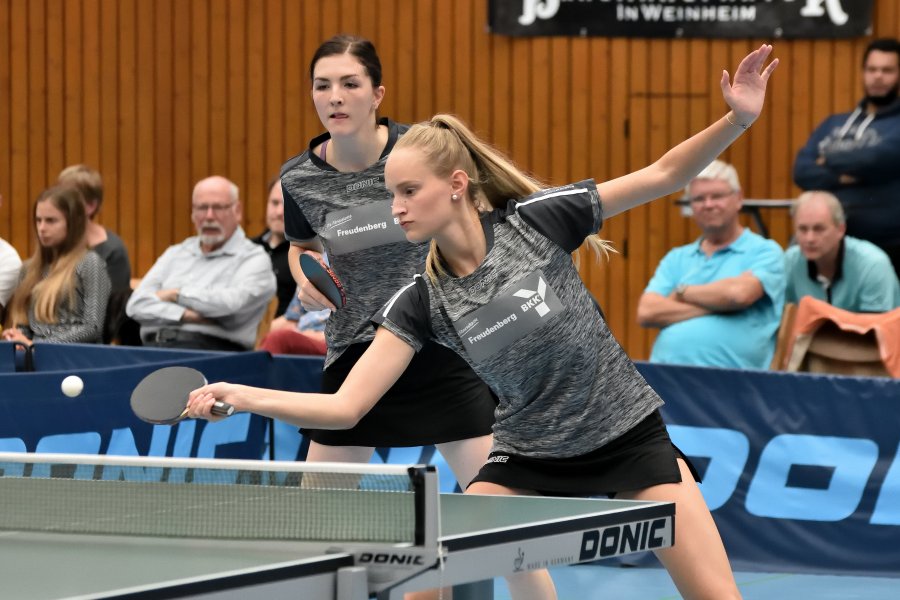 In the front pair cross both hosts are well positioned. Tostedt's Irene Ivancan clearly showed Luisa Säger's work-related training deficit and had put her and later also Daria Trigolos in their place with 3:1 each. And also against Yvonne Kaiser Luisa Säger was powerless at 1:3.
In Uentrop their new arrival Bernadett Balint took over this role. The Romanian defeated first Luisa Säger and then Daria Trigolos clearly and thus single-handedly ensured the hosts' scores.
As always, the rear cross of the Weinheimers was the points collector. Jennie Wolf and this time Iryna Motsyk did not let anything burn and secured the valuable victories for themselves and their team.
The team from Bergstraße is still in the lead with one minus point, but still closely followed by ESV Weil ( 18:2 ), who will have to compete with TuS Uentrop on February 15th, while TTC 46 wants to score the next points at Leutzscher Füchse in Leipzig. The decision about place 1 will probably not be made until the beginning of April, when the Weinheim quartet will compete in Weil.
Translated with www.DeepL.com/Translator (free version)