Ladies of TTC 46 take the fourth victory, men are defeated as expected
Failures are nothing unusual anymore
The second home match day of the 2020/21 season was also successfully handled by the organizing TTC 46 Weinheim in the context of the tightened corona conditions, although for a long time it seemed as if no spectators were admitted at all due to too many new infections. A somewhat thinned-out fan community of 85 interested people saw a clear success for the ladies and an expected defeat for the men.
The ladies had the South Badeners of DJK Offenburg as guests, and so it came to the meeting of the Belgian compatriots Lisa Lung and Margo Degraef on the one hand and Nathalie Marchetti on the other hand.
On the Offenburg side the Hungarian Elena Toth was missing due to the quarantine on entry, but the quartet Nathalie Marchetti, Jana Kirner, Theresa Lehmann and Jele Stortz had also played the previous games. The TTC 46 was also able to present this season's regular line-up – without Daria Trigolos – with Lisa Lung, Luisa Säger, Jennie Wolf and Margo Degraef.
In the rather one-sided game the Weinheimers dominated from the beginning and extended their winning streak with the 7:1 and now lead the table with 8:0.
Lisa Lung had to give up the third set against Jana Kirner, but brought her game home safely. And her second match against her compatriot Nathalie Marchetti was also 3-1 in her favor, so that she was able to maintain her clean slate this season.
Against these two opponents, Luisa Säger also brought her games home 3-0 without any major problems.
Jennie Wolf also scored two victories against Jele Stortz and Theresa Lehmann, while Margo Degraef had to admit defeat to Lehmann and only found her game against 14-year-old Jele Stortz.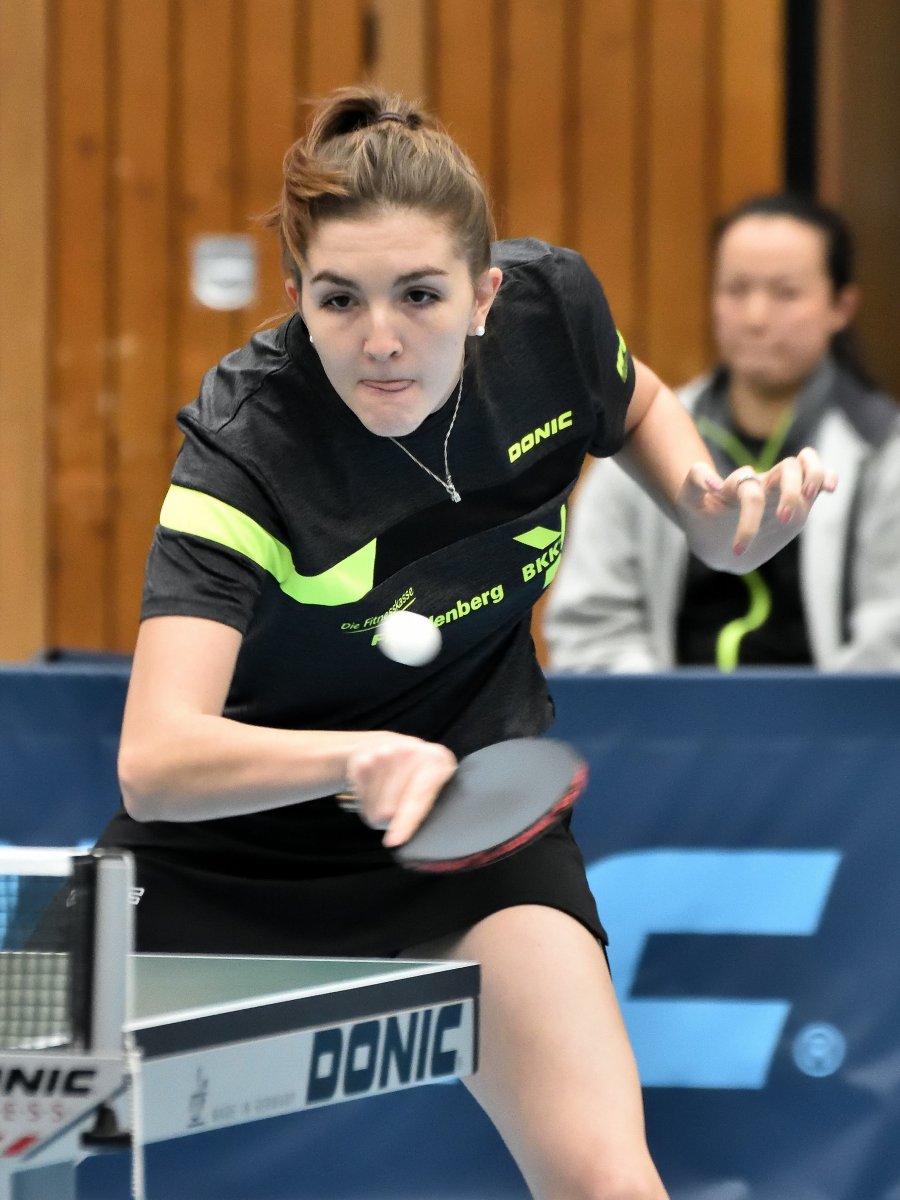 Luisa Säger had not expected the result to be that clear, and she was especially happy for Margo Degraef, who had not yet been able to show her true strength.
In the men's singles, too, one important player was missing from the front pair's cross, but the guests of TTC Sachsenring Hohenstein-Ernstthal were able to cope better with this. Their top player Michal Benes could not come because of Corona, and on the Weinheim side Tom Eise signed off with flu symptoms. A test is still pending.
The Saxons lived up to their role as favorites and finally won 6:2, although the individual sets were usually quite close.
Ivan Juzbasic was initially unable to compete against their number 2 Nick Neumann-Manz, but then he scored his first victory against Miroslav Horejsi in front of his home crowd.
Björn Baum, moved into the front pair cross, acted quite unluckily and lost too clearly against both opponents.
Oliver Both's 3:1 victory over Karl Zimmermann was the first point for the Weinheim team, but too much went wrong with the 3-0 win over Johann Koschmieder.
Substitute Daniel Berbner from the Badenliga team is moving closer and closer to the class three levels higher with his performances. He lost against Johann Koschmieder with only 1:3, against Karl Zimmermann he was close to his first victory on this level with a magnificent performance at 2:3.
Coach Rainer Schmidt just had to digest the loss of Tom Eise and was therefore not disappointed with the result. Here and today he had not calculated with a point win.
Ladies 2nd Bundesliga. TTC 46 Weinheim – DJK Offenburg 7:1
Men 3rd Bundesliga South: TTC 46 Weinheim – TTC SR Hohenstein-Ernstthal 2:6
Translated with www.DeepL.com/Translator (free version)