This will be a difficult season
Despite the (unfortunately) much too nice weather outside, more than 150 spectators in the sports hall wanted to witness the first appearance of the ladies in the first German table tennis league against TTG Bingen/Münster-Sarmsheim. Unfortunately the hopes for a point win crumbled already in the doubles.
The day before, the new coach Andreas Dörner had his flock together for the first time for joint training and to find the doubles pairings. The experienced pairing Luisa Säger / Jennie Wolf lined up by itself, and from the other three available forces (Sophia Klee had traveled to a junior tournament in Croatia) he put Caroline Kumahara and Daria Trigolos together at the plate. But the two did not harmonize very well and lost 0:3 against Kamath/Mynarova.
Next door, Säger/Wolf were doing well at first, they took a 2:0 set lead against Piccolin/Bondareva, were 9:8 up in the third, but then made too many mistakes and lost.
Caroline Kumahara's match against India's Archana Girish Kamath also ended with 2:3. Caroline was already 7:0 ahead in the deciding set and 9:6 ahead, but at 11:10 she could not use her own match point and could not save her opponent's third.
The first point for the TTC 46 in the first division came from Daria Trigolos, but unfortunately it was the only one in this match.
Daria was full of energy and motivation and the whirlwind from Belarus finally won 3:2 against Bingen's number 1 Georgia Piccolin. After leading 2:0, the next two rounds went to the Italian, but in the decisive one Daria showed strong nerves and won the point for her colors with 11:5.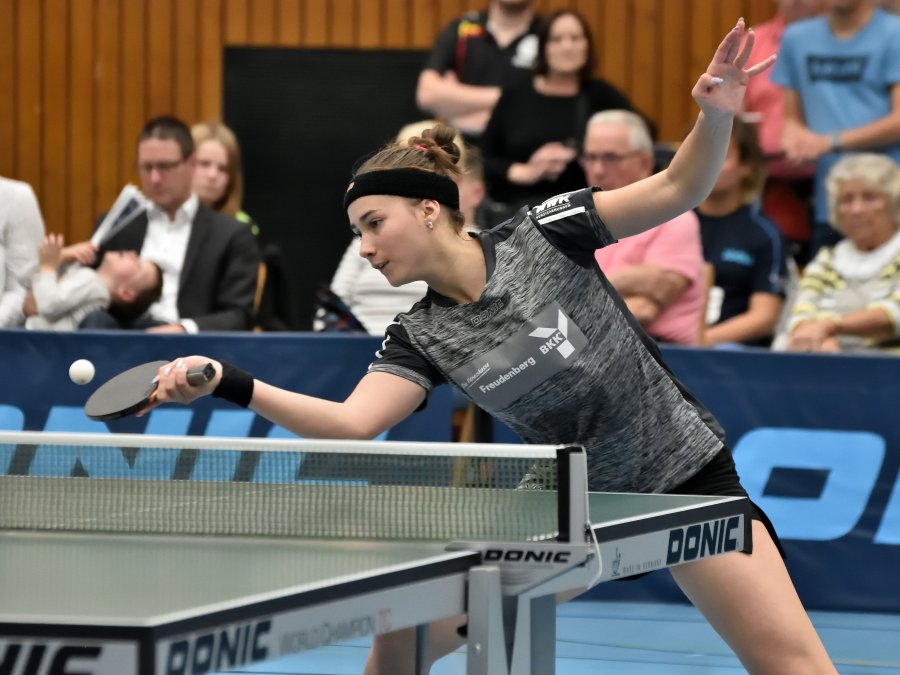 Whoever hoped for a comeback of the Weinheim team was disappointed. Lisa Lung was already behind in her 2:3 against Anastasia Bondareva, who is well known in Weinheim. She could improve and equalized at 2:2, but again a 1:5 in the final set was the preliminary decision.
Luisa Säger was too risky in her 0:3 defeat against Katerina Tomanovska from the Czech Republic, and her shots were too rare, so that a clear defeat was recorded.
The final point was again a 2:3 defeat of Caroline Kumahara against Georgia Piccolin. Again a 2:0 set lead was not enough, not even a 6:2 or 7:4 lead in the fifth, and the fourth match point of Piccolin ended the match, which meant a much too high and thus bitterly disappointing defeat for the Weinheimers after the course of the match.
The will of Daria Trigolos should be emphasized, who was also on the winning track in her second singles match against Kamath, but just couldn't get on the scoreboard. Coach Andreas Dörner and chairman Christian Säger would have wished for as much motivation and mental strength from the other players. The disappointment was written all over their faces, as a point would have been possible in each of the 3-2 defeats.
Reparation will be hardly possible on the coming weekend with two away plays, steps the team nevertheless with two teams of the upper table half of the last season against: on Saturday at 14 o'clock TSV Schwabhausen stands on the program, on Sunday the guest play with SV DJK Kolbermoor. There it applies to sell itself as well as possible and to get experience and play practice, in order to be able to go at the home play against likewise very strong opponent TSV Langstadt on 17 October highly motivated to the plates.
TTC 46 Weinheim – TTG Bingen/Münster-Sarmsheim 1:6
Further information under www.ttc1946weinheim.de
Translated with www.DeepL.com/Translator (free version)