Bundesliga ladies of the TTC 1946 Weinheim are eagerly awaiting the start of the season
Before an uncertain season
Board member Christian Säger and the ladies of the Bundesliga club TTC 46 are more than excited about the 2020/2021 season.
Several weeks of organisational preparations are behind us, and the new game schedule of the second division club von der Bergstrasse is also fixed.
What is still missing now is no longer in the hands of the responsible persons and players of TTC 46, but the Corona theme alone determines the beginning of the season.
At the end of September, the ladies would start with a double match day in Berlin and Leipzig, before many table tennis-hungry spectators could finally be welcomed to the first home match of the new season on 10.10.2020 in the sports hall of the Werner-Heisenberg-Gymnasium. But how many will actually be there depends on how the summer progresses.
And no less team than the title candidate TuS Uentrop will then present himself in Weinheim
After the ladies of the TTC 46 have won the championship in the second Bundesliga twice in a row, the goal for this season is to be able to play right at the top. The team for this is undoubtedly the one the ladies around coach Shen have on paper.
With the young US American Rachel Sung, a top talent is available, and the team around maker Christian Säger has an above-average level for all positions.
With Lisa Lung and Margo Degraef, two newcomers from Belgium will join the Baden top club, who will certainly not only be a reinforcement in a playful way. In addition, the team of the previous season with Daria Trigolos (Belarus), Luisa Säger and Jennie Wolf will be joined by players who have all more than proven their Bundesliga suitability.
These six players form the core of the team and will represent the colours of TTC 46 in the new season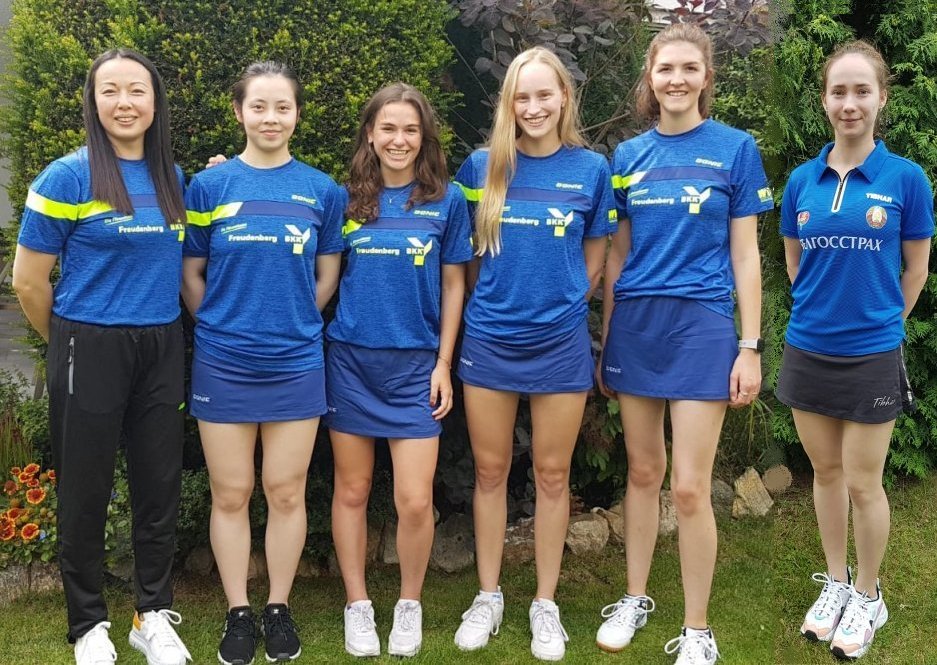 However, nobody knows what else can happen through CORONA until the beginning of the season and afterwards. Various regulations in individual federal states make planning difficult, as do the entry and exit regulations for foreign players, which have not yet been clarified. But this is similar to the other clubs.
But the second half of the new season is not easy to coordinate either. Many tournaments, European and World Championships are not yet firmly planned, all this requires a high flexibility of all involved persons at the DTTB and the clubs.
Therefore the board Säger is optimistic about the coming season, but there are many question marks behind it.
The TTC 46 Weinheim hopes for a more or less normal season and is looking forward to welcoming many old and new spectators to the home game start on 10.10.2020.
The team and all responsible persons would have more than deserved it in this not easy time.
Translated with www.DeepL.com/Translator (free version)