Men lose to Munich, Ladies II with first point loss
FC Bayern München was too big for the quartet of the TTC 46 Weinheim. The young team from the Bavarian capital left no stone unturned and took the points 6:2. Trained in their own club, a really strong team is growing up.
While the doubles Oliver Both / Alexander Gerhold were clearly beaten by Rinderer/Schweiger from Munich, Tom Eise / Björn Baum were very close to a victory. Already in the first set they had a set point against Schreiner/Longhino, the next two rounds they decided in their favor, then there was even a match point, but in the end they were empty-handed.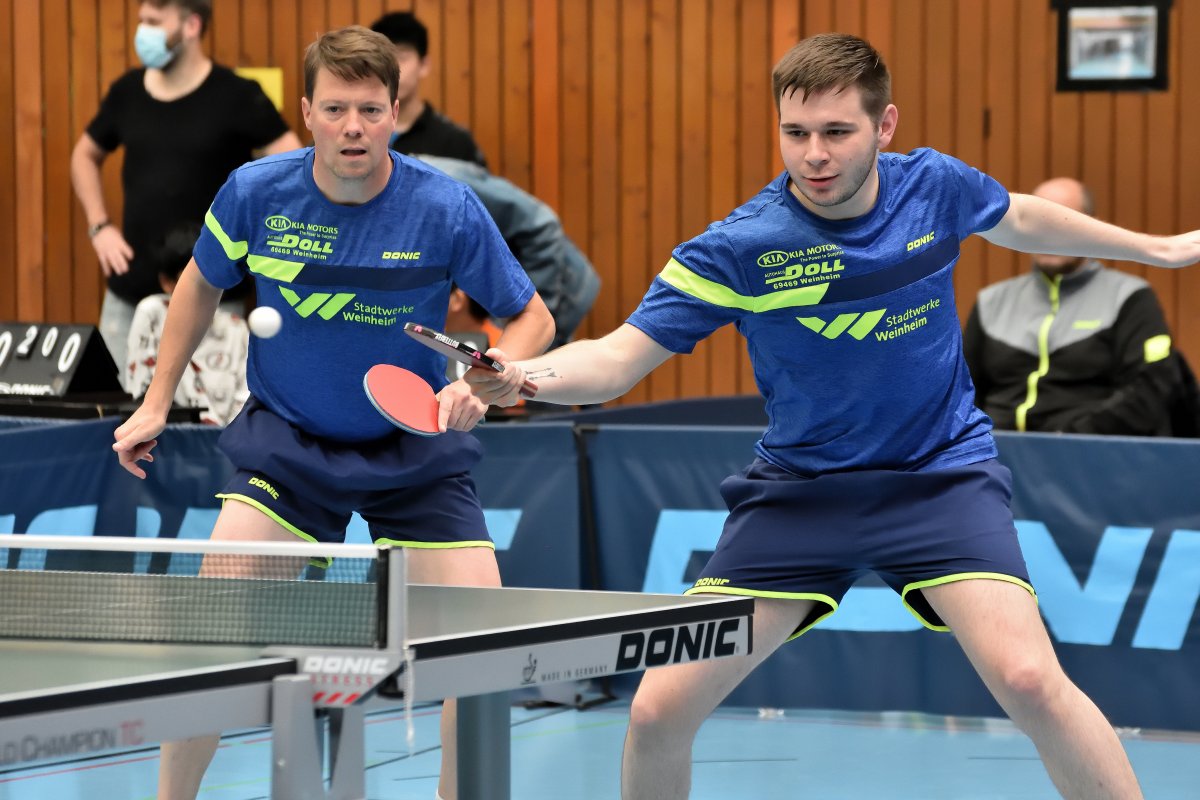 Tom Eise once again went the full distance, but he also failed to win against Daniel Rinderer, while Björn Baum secured a smooth 3:0 victory against Florian Schreiner.
Oliver Both was also unable to make a real impression against Tom Schweiger and lost 1:3.
Next door, Alexander Gerhold turned around a set deficit twice against Nico Longhino and finally got the second point for his team.
But that was also the end of the positive signals for the TTC 46. Tom Eise had no chance against Florian Schreiner at 0:3, and Björn Baum also only managed a set win against Daniel Rinderer for the interim 1:2.
So the team has to hope for the last two home matches on 11.12. against Hohenstein-Ernstthal and on 12.12. against Wohlbach to collect some more points.
At the same time, the ladies II had SSV Schönmünzach as a guest in the regional league and, after five victories so far, had to let the first point go to the Black Forest with the 5:5.
Especially the best player of the season, Julia Kaim, provided 3 points for her team alone, and the Weinheim team without their number 2 Hanna Patseyeva could not counter this accordingly.
Already in the doubles, it came down to a tie. Melissa Friedrich/Julia Hölzel were defeated by Kaim/Bernhard, on the other side Nikoleta Puchovanova and Celin Ermler dominated against Frey/Gaiser.
After the first round of singles, the score was also tied after Nikoleta and Celin won.
The second round was very exciting: Nikoleta could only win the first set against Julia Kaim, after that nothing worked out for her. The other games went into the deciding set. Melissa Friedrich turned her match against Antonia Bernhard twice in overtime; Julia Hölzel was also dominant against Laura Frey only after being down in the first set. Unfortunately, Celin Ermler could not continue the 1-point lead to the overall success, she lost against Nicole Gaiser after leading 2:1.
After an away match in Süßen, the ladies will also play at home on December 11 and 12, again parallel to the men.
Translated with www.DeepL.com/Translator (free version)