Ladies of the TTC 46 Weinheim create distance to the bottom of the table
The result looks quite clear: the ladies of the TTC 46 Weinheim get a 6:2 in Böblingen.
But the individual results testify to an extremely close match, often only in the deciding set for the team from the Bergstrasse.
The conditions before the match were clear: the last team in the table receives the second last, and in the two-tier society in the first table tennis Bundesliga, it is probably these two who will also be in the fight against relegation at the end of the season.
SV Böblingen had not yet been able to score a point, while the TTC 46 had even managed to draw twice against higher-ranked teams and thus had two plus points on their account.
Therefore, the quartet had planned to increase the gap to four points. That succeeded then in the long run also, but with clearly more worry lines in between.
On the side of the TTC 46, the two world championship participants, the Brazilian Bruna Takahashi and the Belarussian Daria Trigolos, were nominated for the front pair, supplemented this time by Luisa Säger and Sophia Klee. For Böblingen, Qianhong Gotsch, the Kaufmann sisters Annett and Alexandra as well as Mitsuki Yoshida took to the boards, Annett Kaufmann with the recommendation of top results at the European Youth Championships.
In the doubles, the TTC duets laid the foundation for the later overall success: Takahashi/Säger quickly took a 2:0 lead in the sets, had to let Gotsch/Annett Kaufmann come close and finally won 11:8 in the fifth set. Trigolos/Klee turned the match around against Alexandra Kaufmann/Yoshida after trailing twice.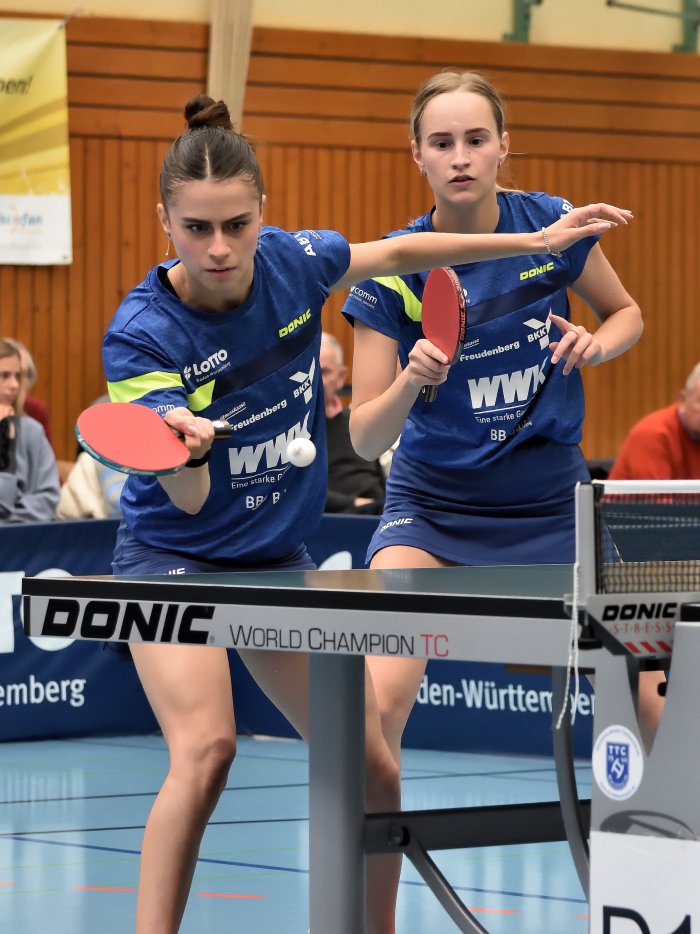 Qianhong Gotsch got the first point for the hosts with her 3:2 win against Daria Trigolos, but Bruna Takahashi restored the old gap with a four-set win against Annett Kaufmann.
In the back pair, Sophia Klee won 3:1 against Mitsuki Yoshida and Luisa Säger 0:3 against Alexandra Kaufmann to make it 4:2 for the TTC 46.
Again the top matches went the full distance: Bruna Takahashi had to come back from a 0:2 deficit and then won clearly, while Daria Trigolos had to tremble after a 2:0 lead and still managed to get the sixth point.
After the nerve-racking match, the TTC players and coaches breathed a sigh of relief.
This is the first victory in the first national league for teams of the TTC 46 – a historic event.
With a certain cushion, the team now goes into the Christmas break before it starts again on January 15. The home match of the TTC ladies against TSV Schwabhausen will not take place in the Heisenberghalle but in Wald-Michelbach – in the Großraumsporthalle, Ringstraße 2, 69483 Wald-Michelbach.
Translated with www.DeepL.com/Translator (free version)