Ladies of TTC 46 Weinheim save two important points by beating Weil 6:4
The fans of the TTC 46 Weinheim had expected something different.
With almost the best line-up against the last team in the table, the two points were actually already booked. But the reality at the plate looks different.
While Bruna Takahashi and Mateja Jeger did not show any weakness against Hana Arapovic/Polina Dobreva with 3:0 and only had to go into extra time in the second set, the two from Weil were ahead at the next table. After losing the first set, Yuan Wan/Sophia Klee pulled away against Izabela Lupulesku/Vivien Scholz in rounds 2 and 3 and were already on the home straight in the fourth at 7:4 and 9:6, but then lost the deciding set.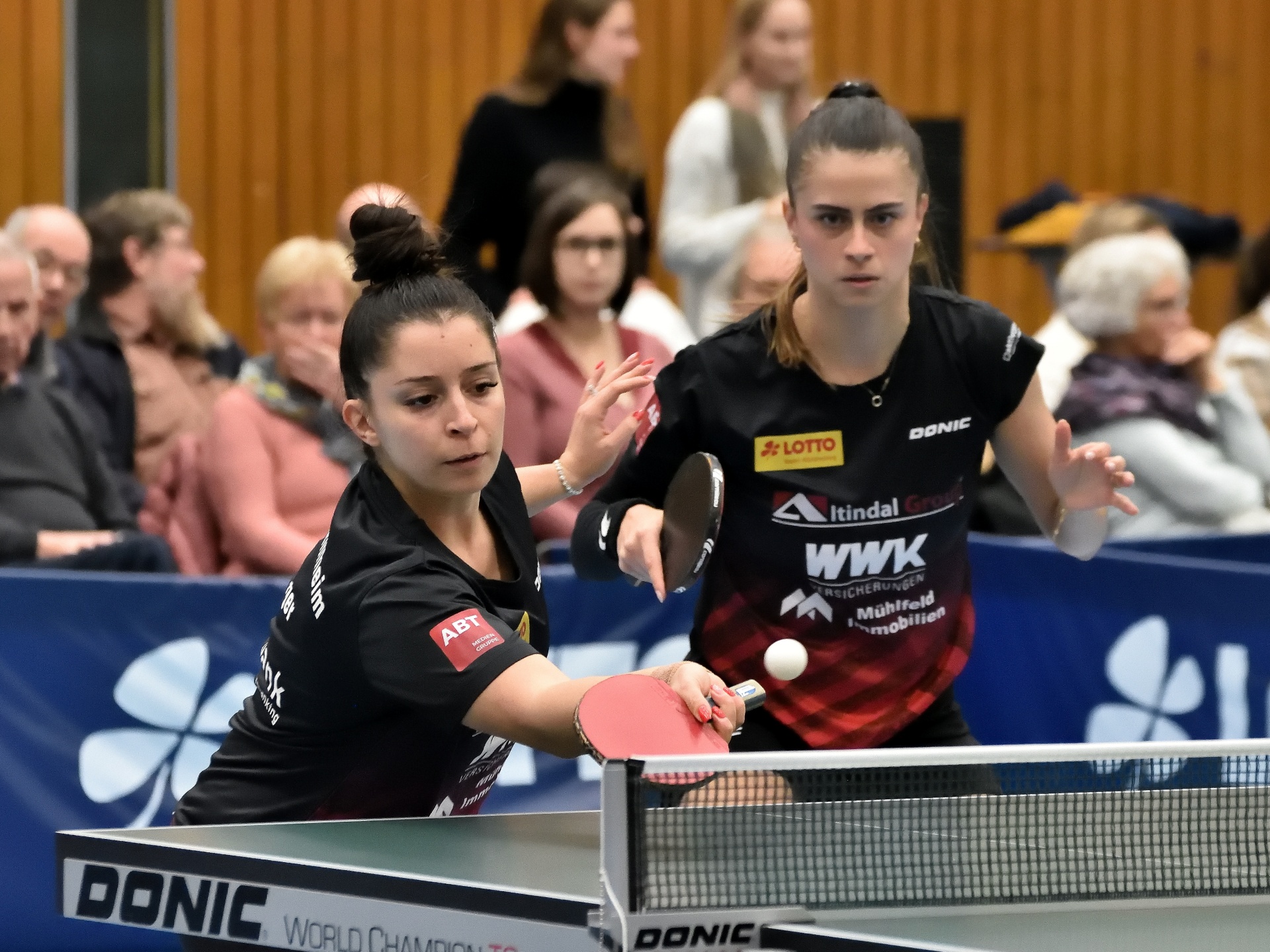 Bruna Takahashi still seems to be a bit away from her best form. Too many mistakes and a strong opponent Hana Arapovic caused an unexpected 1:3.
Yuan Wan secured the 2:2 tie at the break with a 3:1 against Izabela Lupulesku, which was also only very close.
The spectators' nerves were shaken by the thriller of the games in the back pair.
Mateja Jeger had a harder time than hoped against Vivien Scholz and had to chase after a 1:2 after sets. Again and again she was behind and could just save herself into the deciding set, where she was then 9:5 ahead, but then trailed 10:11, but still managed to win 14:12 in relief. Next door, Sophia Klee, after a successful comeback from 0:2 down, lost the final set against Polina Dobreva.
And Bruna's second singles match did not go according to plan either. Again, Weinheim's top player was trailing 1:2 against Izabela Lupulesku, but then rallied in the fourth set to equalize and finished the match victoriously with 11:2.
Hana Arapovic seems to be in best form at the moment, because she also found her way into the match against Yuan Wan and was finally successful with 3:2 for an intermediate score of 4:4.
Victory, defeat and draw still seemed possible after the previous results, but Mateja Jeger quickly calmed the nerves of the fans by winning two clear first sets, before it became tight against Polina Dobreva after two set points of the opponent, but the 12:10 secured a point in the overall result.
That it became then nevertheless still two, Sophia Klee was to be owed, which rewarded itself with 3:1 against Vivien Scholz for its actually good achievements also times.
Thus some bets did not go before so on, because on such a scarce result one had not set. There must probably come next week against the favorites from Berlin, the German champion ttc Berlin eastside, also still something more, wants to keep there something countable in Weinheim. However, they suffered a 4:6 defeat at home against Kolbermoor.
Translated with www.DeepL.com/Translator (free version)