The men of the TTC 46 Weinheim lose also the last season play
Saturday was the day of multiple farewells. The men's team played its last match in the 3rd Bundesliga South and several players of the last years leave the club.
Team captain Björn Baum joined the TTC 46 for the 2007/2008 season in what was then the Regionalliga team, which two years later managed to be promoted to the 2nd Bundesliga. Björn did not play this first year in the higher class with TTC 46, but with league rivals ASV Grünwettersbach, from which he returned a year later. Since then, he has been an integral part of the respective Bundesliga teams, whether initially in the 2nd league or then after splitting in the third. Time and again, one could admire his fighting spirit, with which he developed into a crowd favorite.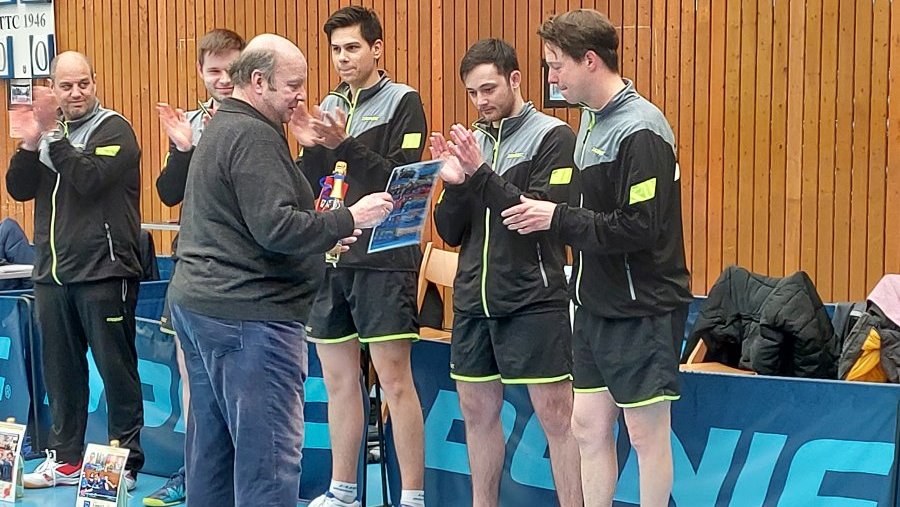 The team's coach has also been active for the TTC 46 for just as long. Rainer Schmidt has ensured continuity over the 15 years and has always motivated his players. Much of the team's success can be attributed to his care on the sidelines.
Now also five years, the then newcomer from Weil Tom Eise brings his youthful verve to the team. Sensational shots are his trademark, with which he worked his way up to the current number 1 in the team.
These three are now leaving the TTC 46 and were bid farewell by board member Christian Säger and sports director Bernd Schafhaupt before the match.
However, there were no farewell presents from the last opponent, TTC SR Hohenstein-Ernstthal, who did not give the TTC 46 quartet a happy ending with their 6:0 victory and cemented the last place in the table.
In addition to Björn Baum, Tom Eise and regular player Alexander Gerhold, the Weinheim team again had to rely on Timo Gass from the second team and could only win four sets.
It was a close match in the doubles between Baum/Gerhold and Horejsi/Neumann-Manz, and also in the singles Björn Baum against Kazuha Nakamura, Alexander Gerhold against Nick Neumann-Manz and Timo Gass against Michal Benes did not want to give in so easily and had to give up the last of the four sets only narrowly.
In the end, the clear defeat was on record.
With partly new personnel it goes then into the next season a class lower.
Translated with www.DeepL.com/Translator (free version)