TTC 46 Weinheim celebrates first win of the season with 6:3 against Dachau
The TTC ladies can still win
Finally the first win! With another narrow 6:3 victory, the TTC 46 Weinheim team was able to overtake their neighbors TSV Dachau in the women's first Bundesliga table and hand over the red lantern. The surprisingly clear defeats of Bruna Takahashi and Yuan Wan in their second singles matches were the reason why it was still tight at the end after a clear 5:1 lead and the fans were already trembling again. Memories were awakened of the 5:0 lead and the final 5:5 against Kolbermoor.
But first things first. In the doubles, Bruna Takahashi and Mateja Jeger got into their game better after narrowly losing the first set and defeated Nikitchanka/Feher by a clear margin. Next door, Yuan Wan and Sophia Klee had no chance against Dachau's top players Sabine Winter and Yangzi Liu.
The first singles in the front pair brought an unexpected 2:0. While Bruna won 3:1 against Liu, who had played strongly so far, Yuan drove her opponent Winter to despair with a world-class performance and won outright.
Mateja Jeger was up against Orsolya Feher and had to concede the first set in extra time, but then took an 11:1 and 11:2 lead. Feher repeatedly took the lead in the fourth set, but Mateja won 15:13 in the end.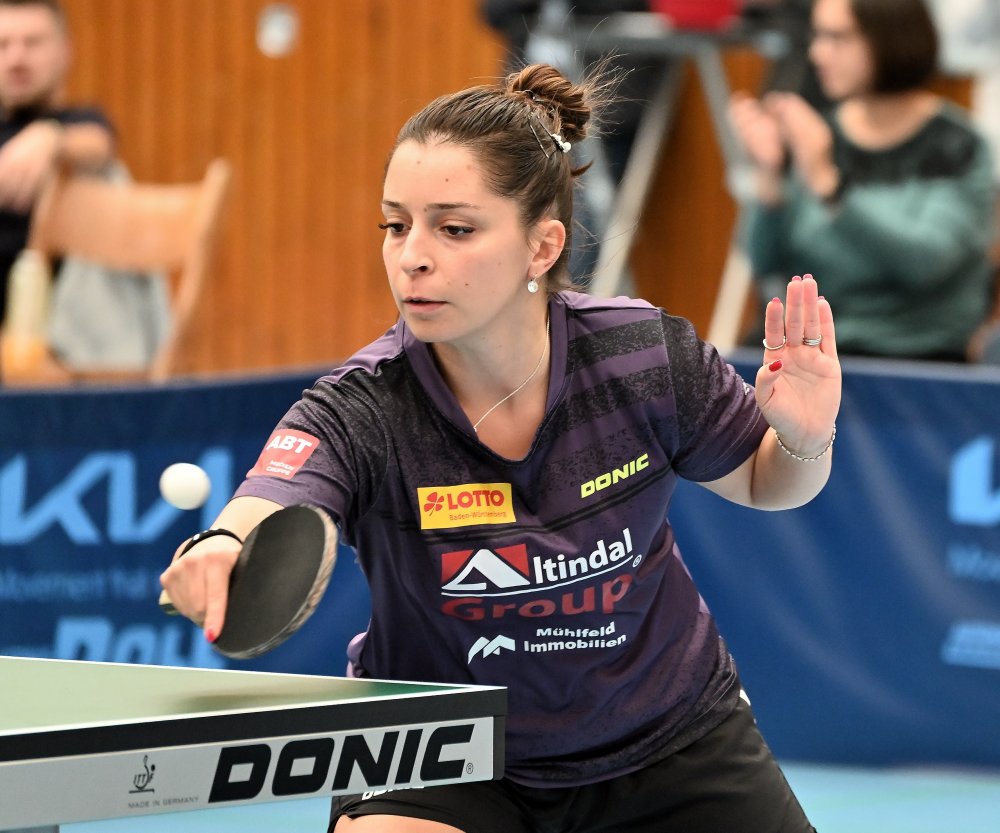 Sophia Klee had the unpleasant task of holding her own against defensive specialist Alina Nikitchanka. With a lot of patience, she fought her way back from 1:2 sets and was always two points behind in the deciding set until she finally triumphed 11:9 to the cheers of the fans.
Bruna then lost 3:0 to Winter and Yuan to Liu to make it 5:3.
But today Mateja once again proved to be a "bench". She coped well with Nikitchanka's defensive skills, and with hard-hitting shots she inflicted a 3-0 defeat on her opponent and gave her team the redeeming sixth point for their first win of the season.
For the time being, this would mean sixth place in the table, but with the teams so evenly matched this season, it is still no cushion for actually achieving the season's "play-off" goal.
Team manager Christian Säger was happy with the success and hopes that the knot has finally been tied.
That would also be necessary for the last two matches of the first half of the season on December 17 at home against Böblingen and probably on Monday, December 18, in Berlin, as November 26 is not possible for the team from the capital.
Translated with www.DeepL.com/Translator (free version)
Translated with www.DeepL.com/Translator (free version)